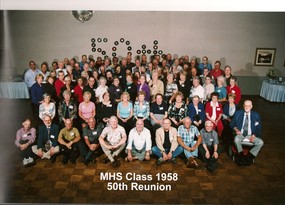 ROW ONE:
Dudley Brown,Roger Patterson,Jerry Stevens,Leo Stacy,Bob Burton,Sam Bowery,Gary Ward,Sandy Barth,Denny Lankford
ROW TWO:
Linda Eddy,Kay Porter,Carol Jean Smith,Jane Morris,Sandra Hayes,Diane Wagner,Saundra Sprague,Ruth Yarnell,Jane Thompson,Karen Shepherd,Wanda Carpenter,Don Bender.
ROW THREE:
Christine Wetz,Judy Sprague,Linda Kile,Lona Kirk,Dave Hammat,Nancy Brown,Judy Wagner,Judy Keerps,June Williamson,Eldoris Turrill,Judy Wunderlick,Sandra Wilson,Sandra Sidinger,Sandra Thomas,Aunekia Bogard,Sue McNutt.(red)
ROW FOUR:
Mary Floyd,Kay Lane,Barbara Dennis,Judy Mallett,Kay Matthews,Carol I Smith,Linda Pape,Betty Davis,Francia Hyde,Dave Stephen,Judy Barth,Pat Hannan.
ROW FIVE:
Jack Bonnette,Harry Pettit,Phil Emmert,Wesley Boord,Gary Knotts,Judy Bole,Marla Dunlap,Mary Ann Kinney,Evelyn Alden,Nora Stout,Judy McKee,Sandra Dearth,Nancy Guilinger,Harry Hendricks(red)
ROW SIX:
Bill Brown,Bill Baker,Roger Hendershot,Glenden Santee,Jeff Bergen,Chuck Mills,Norm Pape,Ed Sidinger,Don Rose,Lorn Dimit,Gene Barth,Fred Gerber.
LAST ROW:
Earl Kehl,Jim Campbell,Bob Fordham,Gary Kochert,Chris Mattocks,Jerry Ullman,Jerry Helmick,Don Furler,Bob Crum,Gerald Kuhn,John Williams(blue)
TO MAKE A COPY OF THIS PAGE FOR THE BACK OF YOUR GROUP PICTURE.
RIGHT CLICK ON THE NAMES AND CLICK ON PRINT.
YOU CAN ENLARGE THE COPY ON YOUR COPIER AFTERWARDS IF YOU LIKE.